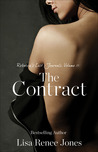 Rebecca's Lost Journals, Volume 2: The Contract
by
Lisa Renee Jones
My rating:
5 of 5 stars
Haha.... This one leaves you in the same turmoil of not knowing who the 'Master' still is.... but worth reading and adds more depth to the characters...
At this stage we start pulling our hair out in frustration and excitement...
Mind-blowing series to be sure .... Just blown away every second reading it...
Lisa Renee Jones you are one heck of a writer !!!!!!!!!!!!!!!!!!!
View all my reviews